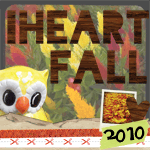 So I started a wonderful online class given by the lovely Janel from
RunsWithScissors
She is the one who organized the 30 Day Challenge that I was doing last month. This time the whole class is centered around Fall and it's 13 weeks!! There won't just be journal prompts but also crafty projects, recipes, decor ideas, etc.
I was really on the fence about doing the class because unlike the 30 Day Challenge this class cost money. Only $25 but for a broke bastard like me, $25 could mean gas for the week or not!
Janel and her husband Adam are in the process of adopting a baby so all the proceeds go toward all the crazy fees they need. I've been following Janels blog for a little while now and she is an absolutely wonderful person, so full of love and happiness that I know any child would be blessed to have her as a mom. So I decided, $25 ain't nothin and it's going to a fabulous cause so I signed up!!
Last night I made my Journal (yes made) I didn't have any spare cash to buy a journal so I went to the dollar store, bought a pad of drawing paper, cut it in half and tied a cover of cardboard to it. I actually really like it better than any journal I could have bought, mostly because the edges are a little rough and uneven from cutting the paper by hand. I also had to hole punch all the pages and oooweee did my hand hurt after that!
I had so much fun digging through all my stash of craft supplies looking for things to decorate the cover and also for the rest of the journal prompts. The last journal I only drew, wrote, and sketched. This time I want to try my hand at a bit of an "Art Journal" with some extra touches other than pen, we'll see!
So my cover is felt that I glued to the cardboard, little felt leaf buttons I sewed on, I embroidered the 2010 in the top corner and I glued the little metal letters. I really love how it turned out!!